Web Site Launched October 2005
'Link among scholars will help dev nation'

It is a great initiative and a dream indeed to unite the Bangladeshi scholars at home and abroad through a network to exchange their ideas and knowledge for the development of the motherland.
With that view in mind, M E Chowdhury Shameem, a Bangladeshi expatriate in New York, USA launched a web site, named www.scholarsbangladesh.com and designed by his sole effort of last 10 years, at a function in the city yesterday.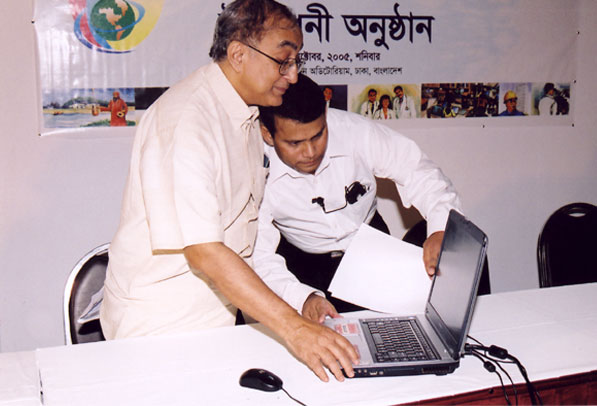 Prof Jamilur Reza Chowdhury and M.E.Chwodhury Shameem (Source: The Dailystar October 2005)


Briefing the contents of the web site, Shameem said Bangaldeshis living around the world can find out the names, contact addresses and notable works of the scholars of this land in the web site.

All other information including job opportunities at home and abroad including scholarships will be available there, he added.


Dr Abdul Moyeen Khan, Prof Jamilur Reza Chowdhury, Prof AFM Yusuf Haider, Prof Zillur Rahman Siddiqui, M.E.Chowdhury Shamim, Debapriya Bhattacharya, Prof MM Akash, Dr Atiur Rahman, Muhammad Zafar Iqbal, Syed Monjurul Islam.


The web site will also help recognise the individuals for their extra-ordinary contribution to education, research, science, technology, arts and culture, medicine and politics, Shameem noted.
Lauding the project Science and ICT Minister Dr Abdul Moyeen Khan said the web site will play a pioneering role in bridging the gap between the Bangladeshi scholars at home and abroad.

"We do not have the lack of scholars, but of their coordination around the globe, and I hope Shameem's initiative will reduce the gap and help the nation bloom with its full potentials," Dr Moyeen added.
Inaugurating the web site at Brac Centre Inn,
Vice-chancellor of Brac University Prof Jamilur Reza Chowdhury said there were some efforts in the past to bring together the expatriate scholars of Bangladesh, but in vain.
"I think the endeavour of Shameem is much more comprehensive than any others made previously and hope that it would work. Issues regarding qualifications and willingness of the scholars, however, should be considered seriously while including their names in the database,"he suggested.

Lauding Shameem's initiative, Economist Dr Atiur Rahman said there are many negative impressions about Bangladesh abroad, but there is also a lot to be proud of it as well.

"Through this web site we can bring together all the Bangladeshi talents around the world and bring back the name and fame of the country," he added.

Executive Director of the Centre for Policy Dialogue Debapriya Bhattacharya, however, expressed a bit sorrow saying that the remittance sent to Bangladesh mainly comes from the unskilled and semi-skilled temporary expatriates.

The skilled tend to settle abroad, he said, adding that a notable share of foreign investment of China and India comes from its diaspora.
Popular science fiction writer and teacher of Shahjalal University of Science and Technology Muhammad Zafar Iqbal also said in a sad mood that for some unknown reasons the expatriates of India are seen to have more patriotism, which is not evident among the expatriates of Bangladeshis.

"There might be debates, but links will have to be established with Bangladeshi expatriate scholars to help flourish our language and culture in everywhere in the globe," said Syed Monjurul Islam, a teacher of English department of Dhaka University.

Noted educationist Prof Zillur Rahman Siddiqui, Pro-VC of Dhaka University Prof AFM Yusuf Haider and Prof MM Akash also spoke.


TechPortal
scholarsbangladesh.com
Intellectuals' directory and much more (Source : Daily Star)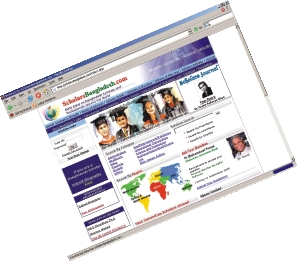 A large number of Bangladeshi scholars have been living in different developed countries of the world and are engaged in services in their respective fields. But the country in which they were born and bred is unaware of their outstanding services and expertise. The aim of a recently launched website, scholarsbangladesh.com, is to bridge the gap between these scholars and their homeland.
Scholar Search
Currently listing more than 10,000 scholars, the website stores information on the scholars of Bangladesh by their profession, village and name. Anyone can search for their required person through these three criterions.

Scholarsbangladesh.com wishes to form a 15-members advisory council to administer the regular activities of the website. National experts living in different parts of the world are to be selected in the fifteen member council that is planned to include two members living in Bangladesh, two from Asia-Pacific, two from Europe, one from Africa, five from North America, two from Australia and one from the Middle East.

Scholars in the news
There is a monthly section for scholars who have been written about or who's ideologies or any other contribution has been acknowledged by the newspapers.

Scholars of the year
The website invites those scholars who have contributed to the nation by means of education, research, science, technology, culture and political influences. The five best scholars will be recognised in the 'Scholars of the year' section for their role in national development.

Scholars Birthday
Birth dates of the nationals who have contributed to the development of the nation are posted on the website, which allow fans to make their greetings and wishes to their desired persons.

Journal
There is a journal section, where professional scholars make their contributions and therefore information and knowledge seekers can find worthy information in this place written by various professionals.

Next Generation scholars
The website also holds information on the nationals who were born abroad or lived outside the country such as the non-residential Bangladeshis and made various inventions or innovations.
Jobs
Those who wishes to come back and serve their country but seek jobs prior arriving can put their resumes on the website as well in the jobs section. Both, the employers and job seekers would be benefited out of such information.

Idea Centre
This is where non-residential Bangladeshis can participate for the development of Bangladesh by means of their contribution in aspects such as their own opinions, ideologies and knowledge sharing. This section will also mention the procedures of contributing and the persons' tour information if required to visit the country for that purpose. On the other hand even the nationals who contribute outside the country will be able to find their credit for their performance and achievements.

Ask Questions
As mentioned in the website, general people can make their enquiries regarding various issues to professionals and eminent personalities.

Vote and opinion
Those who are willing to share their views and ideas can do so in this section. This will also be counted as part of the development in the society and the nation as well. If the advices and opinions are valid or relevant, only then they would be published on the website.

Important Links
Scholarsbangladesh.com has arranged a section containing important links to those websites that are worthy.

Publisher
This section lists the publication houses including important books and journals.

Foundation
Scholarsbangladesh.com was established by Scholar's Foundation. Those who are admitted in the government colleges and medical universities or engineering would be provided scholarships through this foundation. Research and development for basic education will also be carried out by this foundation. Educational institutions established at home or abroad by the nationals would receive scholarships from this foundation too.

The site's founder and president ME Chowdhury Shameem who was working for IBM Corp. New York, Poughkeetsie, told The Daily Star that the site's concept is not entirely new. The United Nations was among the first to explore an innovative way to non-resident professionals back to their country through their programme called Transfer of Knowledge through Expatriate Nationals (Tokten). This programme was launched by the UNDP with the aim of reversing patterns of brain drain by encouraging expatriate nationals to volunteer their expertise in the service of their homelands for short period of time. It is currently instituted in more than 25 countries such as Turkey, India, China, Philippines, Poland, Palestine, Vietnam, Lebanon, Syria, where highly skilled expatriate provide successful technical expertise, policy advice and research to governments, public and private sector expertise, universities and research centres in various fields.