HONORARY CONSUL FOR BANGLADESH IN VICTORIA IN ANNUAL REUNION OF BANGLADESHI DOCTORS
On 18th March Bangladeshi Doctors in Victoria – organized a day long program in at Glen Waverley Community Centre in Melbourne , Victoria . More than 60 doctors and their families joined the program.
The program included scientific seminar, kids and spouse's program and finished with a colourful cultural program participated mostly by the members' of the doctors family living in Victoria . A famous singer Chamchal Mandal took part as a guest artist.
Amongst the speaker Dr. Ahmed Sharif Coordinator of the reunion committee presented a paper on Incidences of Type II diabetes in Bangladeshi community in Australia .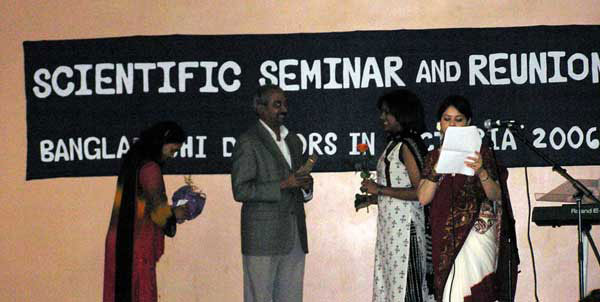 One of the attraction of the occasion was reception of the 2nd generation "to be doctors" those who are in Australian medical school, one of the pioneer migrant and a senior doctor Dr. Mohiuddin Ahad Babar handed over prizes among them.
Mr. Mushfiq Rahman Honorary Consul for Bangladesh in Victoria attended the event as a guest of honor, this part of the program was sponsored by Dr.and Mrs. Muzharul Islam.
In coordinator's speech Dr. Ahmed Sharif said in future we will try to make bridge
in between Bangladeshi doctors practicing in Bangladesh and in Australia .