Expat experts term it a big failure
Staff Correspondent : The Daily Star
The Benapole-Teknaf route's not being included in the Asian Highway is a big failure of the government, expatriate Bangladeshi communications experts yesterday said.
The travel distance for the east-west traffic can be reduced to a significant extent by use of Benapole-Teknaf route, said a paper prepared by New York-based senior transportation engineer Shoaib Chowdhury.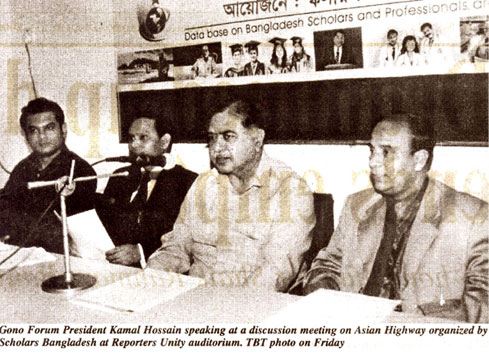 Read out at a press conference at Dhaka Reporters Unity auditorium, the paper also said the route should have been included for the best interest of Asian nations including India, Bangladesh and Myanmar.

Scholarsbangladesh.com, a website-based organisation of the expatriate Bangladeshis, organised the press conference.

Gono Forum President Dr Kamal Hossain was the chief guest at the press conference addressed also by ME Chowdhury Shameem, founder and president of scholarsbangladesh.com, and Dr Anowar Karim, a Washington-based Bangladeshi transportation expert.

All the eastern and southeastern nations including China could possibly expand their business with the Middle East, Europe and East African nations by taking advantage of the Asian Highway network and existing Indian seaports and the Chittagong Port, it added.

"But poor initiatives, slow action, improper assessment of consequences, weak policy settings and diplomatic relations with neighbouring states seem to have accounted for the government's failure in negotiation on the Asian Highway," Shoaib observed in his paper.

A professional associate of Parsons Brinckerhoff (PB), Inc. of New York, one of the world's leading transportation engineering firms, he said the government can still discuss with the experts the routes proposed by the Economic and Social Commission for Asia and the Pacific (ESCAP) and reach a consensus to be a part of the Asian Highway network.

It will be hard to bear the burden of the losses resulting from the failure on such a significant issue of national interest, the paper said, adding that the government must set strong policies by forming teams of well qualified policy experts on the issues concerning national interest.

Beside, the transportation engineer urged the ESCAP to reconsider the option to include Benapole-Teknaf route in the Asian Highway.

Another Washington-based Bangladeshi transportation expert Dr Anowar Karim said Bangladesh could still regain it by making an agreement with Myanmar on Teknaf-Myanmar route.

Another important option for the country can be making internal highway system in line with the Asian Highway route so that Bangladesh could link itself to the network at any time. "In that case, if the country fails to connect with the Asian Highway, it can still do business with the neighbouring countries."
The expert said, "The government should go for privatisation if it fails to mobilise resources to that end."
Noted jurist Dr Kamal Hossain said Bangladesh has missed out on many an opportunity as it has in case of the Asian Highway. "Let us work together and utilise the resources we have to free the country from poverty."

Importance of Bangladesh-Myanmar Route via Teknaf in the Context of Asian Highway >>